Some Cicadas from Las Vegas, NV.
Some Cicadas from Las Vegas, NV.

So, is this a cool cicada or what? This little gem along with one other was captured in Las Vegas by my good friend Elias. Elias lives on Long Island and is a member of the Massachusetts Cicadas' Entomology-Cicadidae group. He was visiting Las Vegas for a 4 day bachelor party and wasn't quite sure if he wanted to spend time there hunting cicadas. But if you know Elias like I know Elias, you have to "prodd" him a little to get him going. I did this by convincing him that it would be worth his while.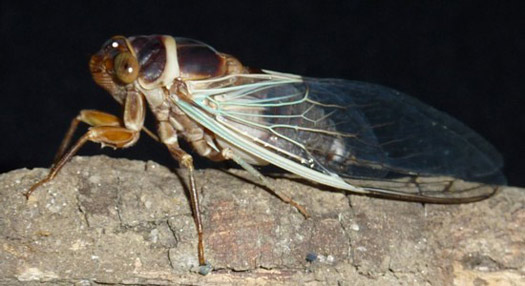 Photos of all Diceroprocta by Elias Bonaros - Long Island New York
I advised him that he should take the time because it was an excellent opportunity and that he may never get back there again for quite some time.
So, taking my advice, the very last evening he was there, he managed to catch two of these cicadas from the Diceroprocta genus. He says that there were a ton of them calling from several Mesquite trees out by the Las Vegas airport.
Of course he called me like five minutes after he caught the first one and after describing it to me over the phone, I concluded that it was Diceroprocta semicinctus.

But wouldn't you know it? After receiving these photos, I had to retract my original conclusion. While these specimens have the distinct color characteristics synonymous with D. semicinctus; like the bone colored pronotal collar, the bone colored costal margin of the front forewing veins and bone colored triangular shaped opercula; I noticed that the mesothorax was an extremely pale color. D. semicinctus has a notoriously black body so these specimens were not D. semicinctus.
So, I sought help by posting the images to the above mentioned Cicadidae group. The conclusion was that these specimens were nothing more than Diceroprocta apache. But herein lies the rub. If you click here and compare the specimen in that link with the above specimens, you can see that the two just don't "jive". They are "D. apache - like", I still remained unconvinced that Elias' cicadas was this species.

I am very interested in the Diceroprocta genus for the simple fact that while there has been a lot of literature written on them, most of the literature is turning out to be in-accurate and out-dated making this whole genus of cicadas an absolute nightmare to muddle through. I had found some papers published by William T. Davis. In them he describes the following three species. (Note: the proceeding text is taken from a posting that I authored on Bugguide.net, specifically, this post here)
<--Begin Bugguide Post-->
W.T. Davis writes:

Diceroprocta cinctifera
Opercula with the outer edges nearly parallel to each other; 8th segment and middle base of tergum pruinose. Collar and costal margin of fore wing usually bright orange in color.

Diceroprocta apache
Hind margin of pronotum or collar yellowish, or straw colored; eyes reddish and membranes at base of both pair of wings pale; often straw-colored. Pubescence at base of abdomen golden.

Diceroprocta semicincta
Hind margin of pronotum or collar with anerior portion blackish and posterior portion pale. Eighth segmen pruinose, and pubescence at base of abdomen silvery. Eyes darker than in apache (not redish in dried specimens), and membranes at base of all wings darker gray. Usually smaller than apache and with opercula more extended at tips.
I would also like to add that based on my personal observations of several examples that I have in my collection is that D. apache differs from D. semicinta in the following ways.

D. apache
Has a thin line of black that bisects the anterior portions of the pronotal collar with the posterior portion being orange or straw colored.

D. semicincta
Has an all straw or bone colored pronotal collar with no bisection of black in the anterior portions. D. semicincta maculations (patterns of reds and browns) on the mesonotum are less prominent than in D. apache.
<-- End Bugguide Post -->
So, What is this Already?
However, that being said, I just uncovered another paper by Davis (Journal of the New York Entomological Society Vol. L, June 1942, Pages 169 - 187) where he describes a"paler" form of D. apache as being Diceroprocta apache var. ochroleuca. While yes it is the same species, it is a "more northern variety" described in 1942. So, is the mystery solved yet? Nope, not quite

You see according to the Code of Zoological Nomenclature, anything described before 1960 as a variety is no longer valid and must be synonymized to the level of species. Since varieties were once believed to be subspecies now, it is not valid and must be moved to the level of species. So then "technically speaking" this is just a lighter color form of D. apache based on these news rules.